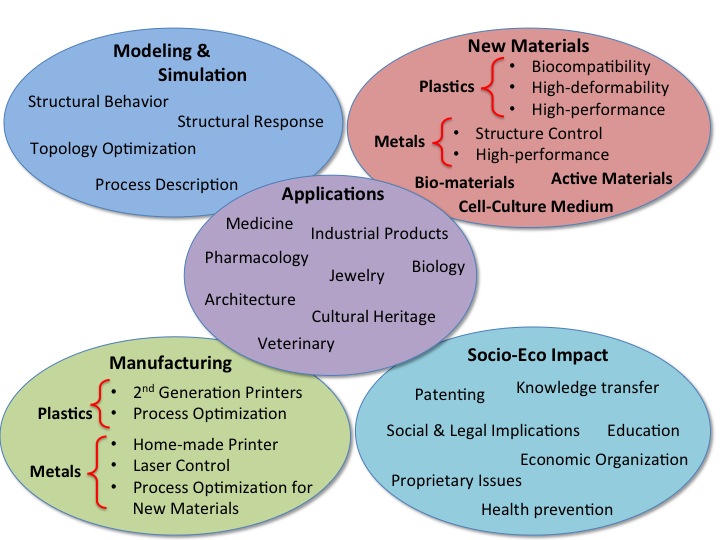 The interest that is developing around the prototyping is demonstrated not only from the industrial field but also from the academic; many universities worldwide has opened laboratories and academic programs dedicated to theme of "rapid prototyping" and "Digital Factory" (CAMEL, Western Carolina University).
At the national level there is the lack of a reference center for applications of this technology, in industrial and medical field. The proposed center wants to act both as national and international reference not only for the development of new technologies and print materials, but also as a reference point for the use of this technology. This point in particular has profoundly innovative nature and is also reflected in the strategic objectives of the "Terza Missione" promoted by the University of Pavia. In particular, the involvement of many SMEs and local university spinoff, will permit this collaboration with a double benefit: on the one hand for the academic, with the opportunity for its students to interface with the world of work and the other for companies, which may have more awareness of the skills provided by the university.
Rapid prototyping has known a great growth in the recent years: the best known form of prototyping, 3D printing, is increasingly common in a widespread manner, especially at amateur level. The aim of the proposed center is to create a center with multidisciplinary and professional skills, thanks to the presence of experts from different sectors involving in these technologies. This center of reference, highly specialized in the various fields of prototyping, is a unique excellence in Italy.
At national level there are several universities that are moving towards rapid prototyping technologies. Typically, these academic prototyping centers were born from a specific application area, where this technology has been introduced. Therefore they are often limited to the specific field of application. The idea of become a multidisciplinary reference center, gives at this center a new strong competitive nature, national and international level. Rapid prototyping is also a field that has developed in recent years only: it remains, therefore, a field still unexplored, with strong innovation margins and wide spaces of operation. The decision to create a prototyping center in the university will also allow a high level training activities on the subject, that have strategic importance for entering the world of work. This importance is evidenced by a study of Wanted Analytics also reported by Forbes attesting how, in August 2014, 35% of the ads research published by US companies interested in hiring engineers, involved experts 3D printing! The increase in demand for candidates with expertise in the field of 3D printing and additive manufacturing stood at 1.843% in the last four years. But comparing requests between August 2013 and August 2014, this increase rises more than 103%, confirming an important growth.
If you are interested in the official document of the University Strategic Plan, you can download it here.